The Power Of Positive Thinking


Regardless of how skeptical you are about the power of positive thinking. It is hard to dispute the fact that when you are hopeful and optimistic, you feel better.

| | |
| --- | --- |
| Since Napoleon Hill's 1928 well-researched work, The Law of Success, commissioned by the great industrial giant, Andrew Carnegie, sales organizations have known that keeping their team positive and motivated is the life blood of their success. | |
Now new research confirms that maintaining a positive outlook has a lasting impact on your physical health and longevity as well.

Power of Positive Thinking 
On your Health.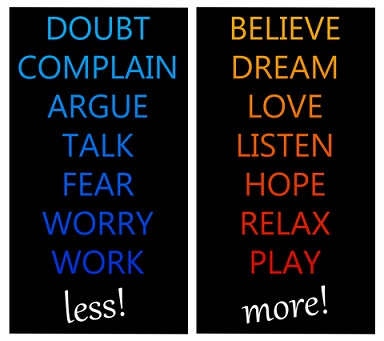 According to the Mayo Clinic,  you can expect the following health benefits by having a hopeful positive attitude:

Increased life span

Lower rates of depression
Lower levels of distress

Greater resistance to the common cold

Better psychological and physical well-being
Reduced risk of death from cardiovascular disease

Better coping skills during hardships and times of stress

For related articles on holistic health and mind healing, please see
Why Skeptics say
Positive thinking is kooky
There are two reasons skeptics think the power of positive thinking is a kooky idea. 
First they think to believe in it means you buy into the concept that you don't have to DO anything - nothing at all - to get the power working for you – just be optimistic and everything will work out fine. Oh yeah!

Second, they insist that positive thinking means you bury your head in the sand and stay blind to the realities of life – and everything will work out fine.


If that is your idea of the power of positive thinking then you will be sorely disappointed. Because while we all WISH it could be that easy, life doesn't work that way.

How to Get the Power of Positive Thinking Working for You

Direct your Thinking

Imagine a love scene in a movie: a beautiful woman on a balcony longingly gazes out at the French Riviera in twilight.
A handsome actor steps into the scene, they make eye contact, classical music begins to swell.
The camera zooms in . . .  to a giant pimple on the actor's ear.

Changes the experience doesn't it?

The funny thing is that SOME people do exactly that in their own lives. They focus on what is WRONG.

The world has everything in it. Good, bad and in between. 
What we focus attention on affects our moods, our relationships, our stress levels and job performance.
Where you focus your attention determines how you feel, how you behave and ultimately the results you get. It is that simple.

| | |
| --- | --- |
| | As an example, when people struggle with exercise motivation, instead of imagining how good they will look and feel with a healthy, lean body, they picture themselves puffing and sweaty, feeling uncomfortable, tired and self-conscious. |
Which of those two mental images will get you to exercise?

The truth is that when you are hopeful you LOOK for opportunities to fill your optimistic vision. And because you are looking you find them.
On the other hand, if you believe your world is falling apart, you seek the evidence to support that vision -- and you find that too. A great opportunity could be right in front of you and you would not be open enough to see it. 

Staying focused on the RIGHT things is simple when you know how. Learn more here:

Positive Power Thinking:  (Positive Thinking with a Twist)
5 Auto Suggestion Techniques for Taking Control of Your Life
How to be More Positive: (Turning Negative thoughts into Positive)
Share your positive thought for the day

Related Articles
---
---