What is motivation?
7  Hot buttons to push for Action


What Is Motivation?
According to Wikipedia, Motivation is the driving force that causes the flux from desire to will in life. In other words, it is the fuel, or the energy that drives us to succeed.
Like pretty much anything else in your life, motivation begins in the mind. It is hard to think of ANYTHING you don't need motivation for.

| | |
| --- | --- |
| You need motivation for weight loss, for excelling in your career, and for maintaining harmonious healthy relationships. Your personal, professional and spiritual development depends on it -- and your life purpose won't be fulfilled without it. | |
So what is it that creates the spark of energy that fuels a person to get off their butt and actually do something?
I call it motivation impulse.

What is motivation impulse?
Motivational Impulse is an emotional trigger that gets people to unconsciously react. It is a trigger that moves people to take action.

There are seven motivational traits that can trigger an impulse:

7 Motivational Traits that trigger the motivational Impulse

1. Motivation Criteria:
What is motivation criteria?
They are labels for "goodness" or "badness" in a given context.
Let's take as an example someone looking for the best weight loss plan for themselves:
One person may consider "a healthy diet" their number one criteria. To another, it is more about finding an exercise program they can enjoy -- and stick to. Other people have different gauges for goodness. For some, an easy diet may be most important to them. Perhaps they don't want to measure what they eat.
Some people may cringe at getting weighed on a regular basis whereas to another, having that accountability may be the exact motivation they need for staying on track. To some, the idea of ready-to-eat meals, triggers them to get their credit card out of their wallet.  For others, like me, who love to cook everything from scratch, that would be a turn off.
2. Values
If something requires a lot of money or a lot of effort, you have to tap into a person's values to really motivate them.
Values are simply a higher level of criteria.  To elicit a person's values in a specific context, ask what is important about that particular thing. Typically the third level of criteria will get you to a person's values.
So for example, let's say you are shopping for a car, the question: "What do you want in a car?" will give you your criteria associated with buying a new car. As an example let's say your criteria is: fuel efficiency, comfort and reliability. If I asked, "what is important about that to you?" You might say, "I have a long commute and want to keep expenses down."  If I then asked "what is important about that ?" You might say, "I would rather spend my money on my family than on driving to and from work."  Then I would know that "Family" was an important value for you. If I wanted to motivate you to action, tapping into your family values, would be a stronger motivator for you than simply talking about fuel efficiency.  
In the case of the best weight loss plan, values could be health or quality of life, or relationships etc. Everyone is unique in how they sort for what is important and why. Getting to the underlying value gives you a great tool for motivation.

3. Purpose
Having a clear purpose may seem basic to the art and science of motivation, but you would be surprised by how many people I see struggling with a lack of motivation, who haven't really sat down and taken the time to clarify the purpose and intended outcome with all its benefits.
Read this article for more on life purpose

4. Motivation direction: 
What is motivation direction?

Motivational direction tells us if the subject's impulse comes from moving  TOWARD an outcome -or AWAY from the pain of the situation?

Do they need a carrot or a stick?

Do they naturally move toward pleasure or is their impulse ignited only when the pain gets too uncomfortable? (Please keep in mind everything is context specific.)
People can also be a  combination of both. You can't motivate an "away-from" person with goal oriented language or vice-versa.

5. Motivation Level:
What is motivation level?  
Some people are naturally proactive -- others are reactive, the rest have a bit of both. If you want to motivate a reactive person, you have to constantly give them things to react to.
On the other hand, this will drive a proactive person crazy because they will feel like you are constantly interrupting them. With a proactive person, you will have to find them things they can respond to.
If you are dealing with a proactive person, their motivation will be stronger if THEY do the initiating.
Remember this will differ from context to context. A person may be reactive to doing expense reports but proactive about getting sales. 

6. Motivation Source:
What is motivation source?
Motivation source refers to WHERE people get their "information" from-on which they will base their decision to act -- or not.
Do they base their judgments on external sources or by using their own internal standards?
For motivation in a workplace situation, an externally motivated person needs regular reviews and feedback. Their environment tends to be important to their level of motivation and they can get charged up by motivational quotes.

For diet motivation, an external type will do better if held accountable by someone. Regular weigh-ins or body-fat measurements would be important too.

An internally motivated person in a workplace situation, couldn't care less about reviews or feed-back. Internal people don't care about outside data --they make their decisions from within.

To motivate an internal person, it is best to make them think that it is "their idea.

Use language like: Here is a challenge for you…Only you know… You might want to consider…Only you can decide…Here is the information on this end. The goal is ____, you decide the best way.

7. Reasons:
The "reason" aspect of motivation has a slightly different meaning to the way we typically use the word. So what is motivation "reason"?
It refers to the underlying tendency (in context) to either follow the established rules or procedures -- or to find a new or different way to do things. 

In any given context, there will be people who want to generate NEW ways of doing things while others will want to do it the "RIGHT WAY."
The options person loves to create processes -- but hates to follow them. They are motivated by breaking the rules, by opportunity and possibility.
Procedures people are motivated by following a process. If you can get them to take the first step, they will usually see it through to the end. Not so with the options person.
Again, a person's motivation impulse will vary from context to context. Don't assume that just because a person is one way in a relationship with their kids, they will be the same way in a relationship with a sibling.

Learn How to Motivate Yourself and Others with this Free Guide

Motivation: The Science and Art of Influencing Behavior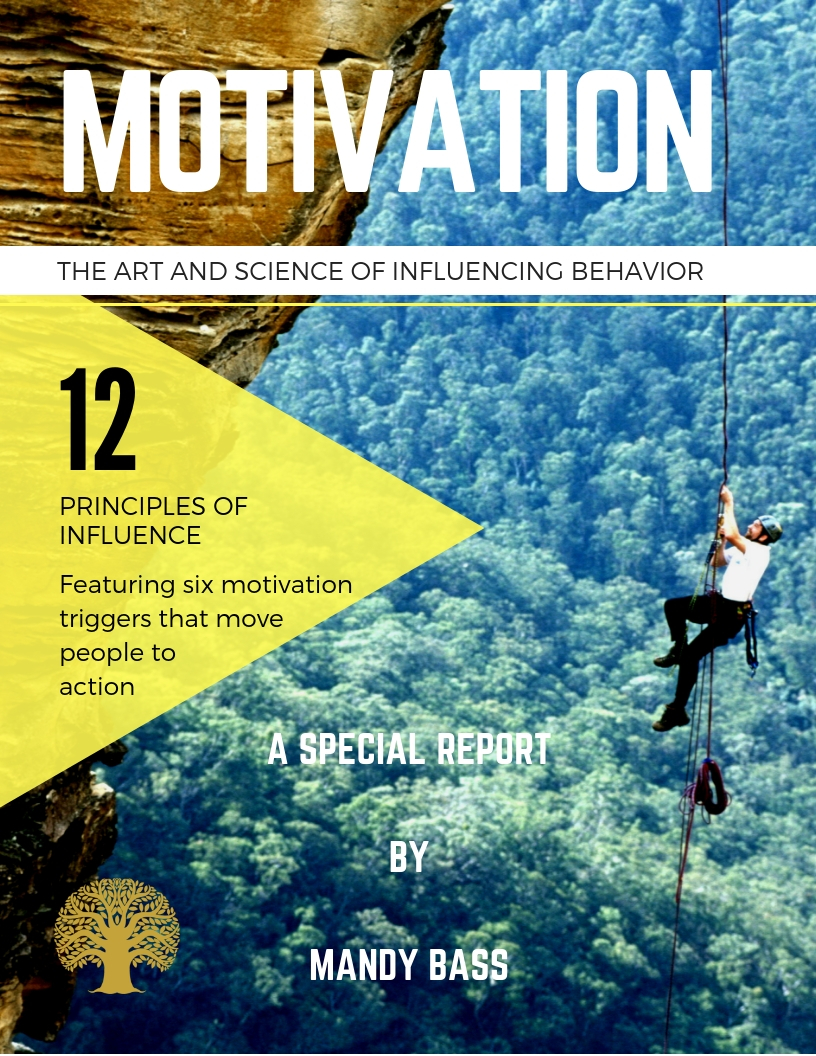 Discover the12 principles of influence and how to use motivation triggers to move people to ACTION.
You will discover:

Why MOST people are only able to influence a SMALL percentage of prospects (and what you can do to turn that around to win over MOST people)
The exact words to say to get people to KNOW that you are listening, and you care
 6 motivation triggers that will move prospects to "YES"
For Information on
personal or Group  coaching

Schedule an appointment with Mandy here

---