How To Forgive:
The Seven Most Effective Techniques

In learning how to forgive someone, you might think of a person you know whose life is miserable because they live in the past, holding on to old hurts.
Sometimes it is easier to see how holding onto resentment causes pain for the beholder, when you observe others.

Imagine having a car you have owned for a while that runs kind of sluggish. 
Then one day you are out for a drive with a friend, and your friend says:
"Why don't you turn off your parking brake?"
"Parking brake?" you ask with surprise.
So your friend reaches over and releases the brake. There is a clunk as the car lurches forward with an exhilarating start. 
The engine hums and you find yourself moving more smoothly and easily than ever before.
That is what it feels like when you learn how to forgive and start having your emotions working for you in your life.
When you release and let go, you are freer, with more energy. All of a sudden you become more efficient, productive, confident, and resourceful. You have more options!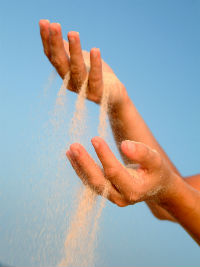 And, you enjoy your life more and you can move forward easily and comfortably.
If you have been badly hurt or betrayed, letting go of those hurtful feelings can be easier said than done. 
Even though you may realize logically that by releasing the hurt, you are not condoning that person's behavior, it is not always easy to do so. When you hold on to anger and resentment, the person that hurt you does not feel anything at all.
You harbor the pain! And every time that memory is triggered, you relive the agony and just keep injuring yourself. Or said another way, that person gets to hurt you over and over and over again.
And it is not just the immediate pain you feel in that moment that hurts you, inevitably your long-term mental, physical and emotional health suffers as a result.
You will find that when you open your heart to forgiveness, it is like turning on a faucet of good feelings. An abundance of positive energy will flow naturally into your life.
How To Forgive: First Things First
Learning how to forgive is about letting go of our own suffering.
But, sometimes the person we need to forgive the most is ourselves. The person we need to learn to love most, is ourselves. When we start talking about forgiveness, we often forget that we might just need to start with ourselves.
Let's face it: We have all made mistakes. We have all done things that have hurt others - whether we meant to or not.
The reason we have such a hard time learning how to forgive is because as human beings we are taught from the time we are babies to learn from experience. We know that if we remember what happened in a situation we can be protected from making the same mistakes over again. 
But when we hold onto negative emotions, we are also prevented from experiencing all that life has to offer.
Don't you wish you had a way to get over the preoccupation with the past and refocus your energy on creating a rich, present and a vibrant future?
You will find below two of my favorite techniques to use for forgiveness, when you are first practicing how to forgive, chose an easy scene or situation.
How to Forgive: How To Use Self-Hypnosis, Some Practical Techniques:
Simple ask and receive: recommended for situations where it is relatively easy to forgive someone. 
This technique assumes you have meditated or used self-hypnosis before. Don't worry if you have not. Go ahead and read through the process, close your eyes and practice anyway.
Start with a small issue, practice getting familiar with how the technique feels and how to work with it. 
For instance, perhaps a co-worker said something that upset you. You know in your heart of hearts that they made a mistake and didn't mean it, but you still find yourself angry.
How to Forgive with Divine Intervention
Recommended for situations that are more difficult.
Enter a deep level of mind
More on Forgiveness

To order Mandy's Forgiveness and Self Appreciation Audio Program, you can do that here

Discover These Other Techniques For How To Forgive:
Learning to forgive with Huna (Ancient Hawaiian Ho'oponopono Prayer) 
---