How  to do meditation:
A Beginners Guide

Learning how to do meditation is probably the best decision I've ever made.  Without access to the inner resources that meditation has given me, I cannot imagine how I would have coped with the difficulties of life over the past twenty  years. Neither would I be as happy with my life as I am today.

This blog on how to do meditation is written for beginners who are considering a meditation practice and want a way to get started.

There are many different meditation methods. One is not necessarily better than another, they are just different. They all have pros and cons.
My experience is that people who meditate always think that THEIR form of practice is the best!  So my advice is to pick one method and get started.

Types of Meditation

There are three main methods of meditation:
Meditation that uses concentration to focus the mind. This would include most guided meditations, visualization techniques, Silva meditation methods, the use of Mantras (such as transcendental meditation),  focusing on the breath or counting backward.

Mindfulness or awareness meditation methods are used extensively in Zen and many other schools of Buddhism. The goal of this type of meditation is to be fully aware of what is happening in the moment, with all senses engaged.

 Just Being. This type of mediation is also know as "Just Sitting," - "Shikan Taza" in Japanese, or "Dzog Chen" in Tibetan. This is the simplest, most advanced  and most difficult form of meditation.

How To Do meditation -- Instructions


Before you read on, I have a quick favor to ask:

I provide all this "how-to" info because I know what a difference it can make in people's lives. So, if you find this site helpful, please pay it forward and share it with your friends. Together we can make this world a better, more peaceful place. Thank You!

Body Posture for meditating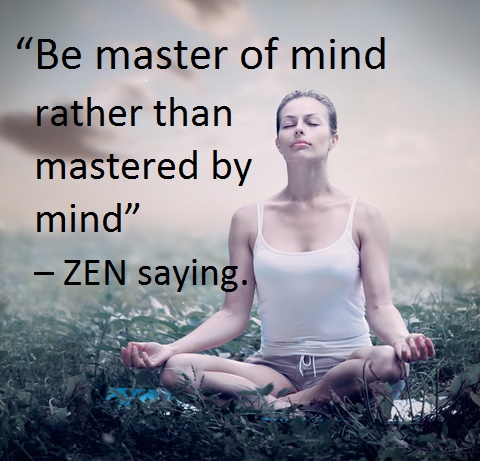 Traditionally with eastern forms of meditation, students sit on a cushion in a lotus or cross legged position with a straight spine. Using a cushion to elevate your rear, allows you to form a tripod with your knees and buttocks, for maximum stability.

Full or half lotus are the most stable positions for meditation but if you are like most people, that may not be comfortable or even possible for you. If that is uncomfortable for you -- as it is for many westerners --sit in a chair.
The most important aspect of meditation posture is a straight spine with your diaphragm muscles slightly stretched, to facilitate the flow of breath.. In fact, good posture is considered one of  foundations of Zen meditation where complete, effortless breath form the basis of the practice.

If you are simply learning meditation for the purpose of relaxing and quieting your mind, any comfortable sitting position, where your spine is straight, is acceptable. If you have a health problem that makes sitting  physically challenging for you, you can can lie on your back - preferably in corpse position.

Practicing Concentration

Before entering into meditation, decide on the length and method of the meditation practice. I would advise making sure you are in a quiet place with your phone set on airplane mode. That way you can set a timer with a gentle gong to alert you when the practice period is over.

The biggest misunderstanding people have about meditation is the idea that it requires you not to think. Good luck with that! Thinking is natural. We all do it all the time.
The goal of concentration in mediation is to FOCUS your thinking -- not stop it. It is natural, especially in the beginning for your mind to wander. If it does, simply bring it back.

 concentration  meditation Techniques

There are many forms of concentration mediation. Here is how to do mediation using concentration:
Use a guided audio
Count backward from 100 to 1.
Focus on a candle, flower or object.
Focus on repeating a mantra or affirmation to yourself.

Imagine a scene that you find relaxing and enjoyable.
Use progressive relaxation techniques, starting at the top of your head  and working your way down to your toes (or vice versa) consciously relaxing each part of your body as you go.

Concentrate on an idea or Zen Koan
Mindful Meditation Techniques (awareness)

This type of practice focuses on awareness of what is happening in the moment. The goal of mindful mediation is to stay present and aware of what is happening right now. More specific instructions on how to do meditation as a mindful sitting practice here.

As a sitting practice, mindful meditation is about turning your attention inward. But you can also practice mindfulness with eyes open, while eating, walking, doing yoga or repetitive tasks etc.. The goal is to stay present, observing your senses and whatever else arises. Sounds easy. You may be surprised.

"Just Being" Meditation Techniques
How to do meditation for just being?
There are no instructions for how to do meditation of this type --other than to  just be.  Like I said, it is the hardest practice of all.

More on Meditation

---