Self Motivation Techniques
using Mind Visualization

Self motivation techniques are mind power techniques that help you direct your focus away from the "discomfort" of doing whatever it is that you need to do -- and toward the benefits of achieving your goal.
Sounds simple, right?
Well, for some people, about 40% of the population, it is. But the other half of the population, may not be motivated to achieve goals at all!

For goal-oriented people in a given context, self motivation means using your mind power to make your internal associations of the desired OUTCOME more compelling than the work of getting there.
For people who are motivated by avoiding pain, rather than moving toward a goal, self motivation techniques would need to intensify the perception of discomfort to get you to that point of action. Ouch!
Does that make sense?

| | |
| --- | --- |
| | For example, if you are goal oriented in the context of working out, and you are struggling with workout motivation, you need to focus on how you will look, feel and experience life with a fit, healthy body. In other words, you need to use your mind visualization skills to keep your GOAL image in the front of your mind when you exercise -- or even think about working out.  |
Most people don't do that. They are making pictures in their mind that focus on the discomfort of the journey. If you are focused on being hot and sweaty, or on a more pleasurable thing you could be doing instead, you obviously won't have workout motivation.
Likewise, if you are not goal oriented in this context, how great you will look and feel at some point in the future, won't motivate you at all. But if you can focus on how NOT working out is ruining your life now . . .

That is where Self Motivation Techniques can save the day.
Drum roll please . . .

Are you motivated by pain or pleasure?

Your motivational profile is context specific. What works to get you to pick up the phone and make a difficult call, may not work to get you to do your taxes, go to the gym, or break off a toxic relationship.

If you are the type of person who is motivated more by pleasure than by pain, in a certain context, visualizing the benefits of action, will motivate you. When it comes to working out, for example, you can simply make a strong mental association of how working out will benefit you, and you will feel motivated.  Visualizing how you will look and feel, and the positive things people will say about you, will be enough.

But wait. We are not all wired that way!

If your motivational profile tends to be what we call, "away from" – meaning that you are more easily motivated by discomfort, in that context, you need something DIFFERENT.  The good "outcome"  will not get you off the sofa. 
Instead, in the case of gym motivation, you want to make pictures in your mind of how bad you will look and feel if you DON'T go exercise. You might also imagine people you respect, making negative comments about your laziness because you didn't follow through on your commitment.  Sorry! In this case, you have to create internal discomfort to be motivated.
Then, after you have done that, do this:
Compare that uncomfortable scenario with how great you will look and feel – and what the people you admire will say about you if you DO get to the gym.  Then you can make a clear choice...
Motivation Breakthrough

If you want a motivation breakthrough, combine the above strategies  with auto-suggestion techniques,  self hypnosis and affirmations.
Getting into an alpha state to "program" yourself, helps you transcend  negative programming that could be creating internal conflict around the situation where you are experiencing a lack of motivation. For example, you may have limiting beliefs that are sabotaging you. 
Using auto-hypnosis (self hypnosis) or dynamic mediation techniques combined with the visualization process described below, can really create a motivational breakthrough, as many of my clients attest to. 

Mind Visualization Technique for Self-Motivation:
Using visualization is very effective for all types of self motivation techniques. Being in an alpha state of mind, makes visualization more powerful.

Select a specific achievable outcome you want to accomplish -- the reason to apply your new self motivation techniques.  It could be a goal or a new habit, such as getting up earlier in the morning.

Optional: Enter the Alpha state with self hypnosis or meditation and deepen to your desired level.

Then…imagine the problem  situation -- you want to change -- on a small black and white TV screen. Look at it objectively.

Notice the problems and discomfort that this situation creates.
Noticing THESE details, the pain the current non-action/behavior  is causing in your life, will increase motivation for most people.

When applying self motivation techniques, use all your internal senses
Then…fade out that image until it disappears completely and…in bright color imagine a compelling scene of you accomplishing your goal.

Allow your mind to make whatever adjustments are necessary so that this is JUST the way you want it. Imagine all the benefits that come from that outcome…
Use positive affirmations to reinforce programming.

Then imagine stepping INTO the image and feel how it feels. Hear the good things others are saying about you.

Imagine yourself going through time – in different situations, where perhaps this issue had been a problem for you, and notice what is different.

Automate it!

Yes, it is true. You can even automate your new associations between action and goal by simply applying an NLP mind power technique. It is amazing what you can do with your own mind power!
Learn How to Motivate Yourself and Others with this Free Guide

Motivation: The Science and Art of Influencing Behavior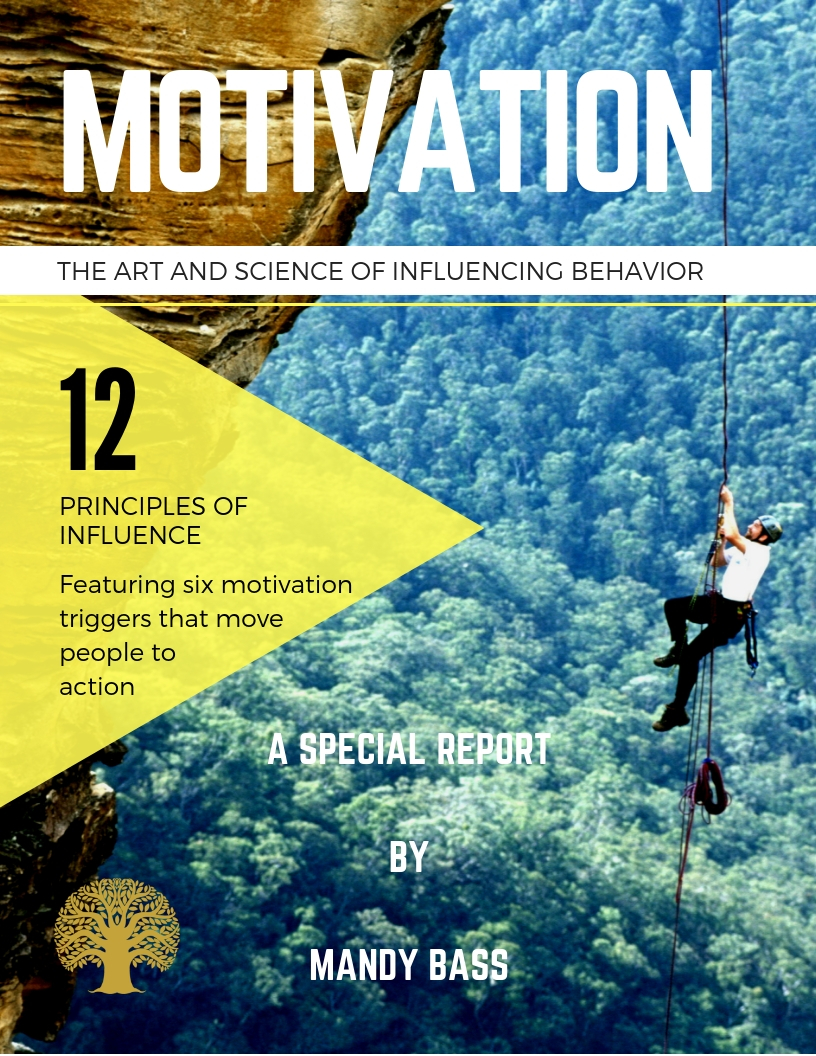 Discover the12 principles of influence and how to use motivation triggers to move people to ACTION.
You will discover:

Why MOST people are only able to influence a SMALL percentage of prospects (and what you can do to turn that around to win over MOST people)
The exact words to say to get people to KNOW that you are listening, and you care
 6 motivation triggers that will move prospects to "YES"
---