Weight Loss Motivation:
find the right motivation for you


If you want weight loss motivation, I have a treat for you. 
Try this closed eye weight loss motivation exercise from the "Thin, Fit, Fabulous You" Weight Loss System. You won't believe how motivating deep relaxation can be!
If you enjoy that exercise, I recommend you make a no-risk investment in the Thin, Fit Fabulous You Weight Loss System.  It will help you train your brain to adopt the behaviors and attitudes required to take off your excess weight AND keep it off for good. Without struggle. Without Yoyo dieting.
The question is: Why do you want to reduce your weight?
Every day there is another news report or health topic telling us all why losing weight is so important, a new study, a new finding of how losing weight affects our lives. On top of that, like most of us, you probably have no shortage of folks in your life who have an opinion about your body.
But really, none of that truly matters when it comes to you losing weight. .
Weight Loss Motivation
You see, the secret is, it doesn't really matter at all why other people think it is a good idea to trim down and get in shape. Because until you tune into your own motivation - you can have the most compelling statistics in the world at your fingertips, and it won't make any difference. None. Denada. Zilch.
Instead, you need to know truly why it's important to you. What is your weight loss motivation?
Because we are each unique, (thank goodness!) what motivates you in any given context is likely different to what motivates someone else.
Tuning into your own weight loss motivation, means being able to use this to make the changes you want to make. However, if we can truly understand what makes you tick around the subject, you can make life-long changes.
In the first module of the Thin Fit Fabulous You (Platinum program) we will go through a closed eye exercise that will really help you go deep within. You will bring to the forefront of your mind all the reasons and motivating factors that can get you to your goal.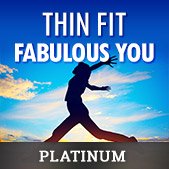 What If Motivation Has Never Worked For Me?
Motivation can be complex when you consider that each of us has a unique way of thinking and processing information. The words we use describe our own unique mental pictures and trigger emotions that only we are aware of. Just ask twenty people what "being in shape" specifically means to them, you will get twenty different answers.
To truly keep yourself motivated, you need to use the words, pictures and emotions that will energize you. And we will assist you in discovering just this!
For about 40% of us, painting a picture of how terribly miserable we will be if we don't take action now, will get us moving in the right direction.
But if you do this for the other 40% of us, we will be completely turned off. To move us, we would need a picture in our minds of how wonderful things will be when we reach our goal. And yep, there are 20% of us who need a bit of both.
People also use their brains differently. Some of us (about 30%) think in a very detailed, linear, sequence. We need to see the steps to the plan laid out in an orderly, specific fashion before we can truly make a weight loss program work. You guessed it, this would drive the other 40% of us, who "see the whole picture" at once, absolutely crazy!
This is why so many people have experienced problems with standard weight loss motivation. If you are trying to get motivated with a plan which uses negative images, and you are motivated by the sunny side of how things will be when you reach your goal, this motivation is not going to work.
Some people are attracted to diets and exercise programs that are different and new, while others move toward things that are familiar to them. And yes, some of us like both.
A few people (8%) need time to "mull things over" before they can make a change, while about 25% make decisions automatically.
The problem in the past with weight loss motivation is that each of us has our own unique set of filters through which we see things. These filters are shaped by a our sense of identity, our beliefs about what is true and our values about what is good.
That is why any type of motivation must be designed to work for how you think and what will work for you. It is not one size fits all.
Join us in the Thin Fit Fabulous You Weight Loss System and see how easy it is to finally discover how you work best, no force or boot camp counselor yelling in your ear. Just a body, brain and mind conditioned to LOVE new habits that make you your best self.
More On Weight Loss

Learn more about my Thin, Fit fabulous You Weight Loss System
More About Hypnosis for weight Loss

If you are interested in ordering Mandy's Platinum Weight Loss Program, here is the link

---