Healthy Eating Plan


This healthy eating plan is the same plan I have followed for the last twenty years and the one I recommend in my weight loss hypnosis program because it is healthy, sustainable and flexible enough to fit into most people's lifestyles. 
Because you don't need to measure or weigh anything and stick to it while travelling and or eating out, I consider it the  the best weight loss diet  on the planet!
This healthy eating plan is also known as food combining. It speeds up your metabolism and allows you to eat a balanced healthy diet -- and eat as much as you want (provided you follow the rules of food combining.)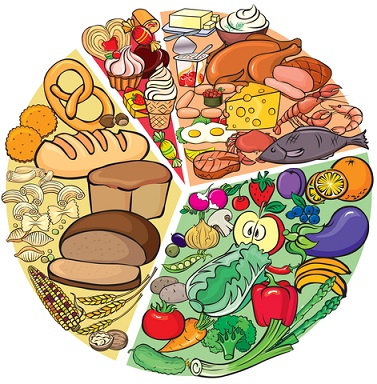 This eating plan will actually increase your energy, turn on your metabolism, and reduce your weight- without even one bit of deprivation!
You can find a lot of books that will explain this particular eating plan in great detail, with hundreds and hundreds of pages to tell you how this works and why this works, and all the reasons why this is good for you.
Harvey and Marilyn Diamond wrote about this in the eighties in their book "Fit for Life." . More recently Suzanne Summers wrote about these same principles in her book Sexy Forever: How to Fight Fat after Forty.
However, I am going to give you the core principles and you can start on your healthy eating plan, right now, at your very next meal. There are three rules, each easy to remember, each easy to follow.
Healthy Eating Plan Easy Rules
1. Always eat fruit -ALONE- on an empty stomach.
Fruit is often eaten as a dessert - after eating other foods, but fruit actually isn't digested in your stomach. It's digested in your intestines.
When you have fruit after you've eaten something else, the fruit putrefies the food that was in your stomach. Yes. Yuck.
The benefit of eating fruit on an empty stomach is that your body can digest it quicker and easier. But even better than that, fruit - with the exception of bananas - is a very water-rich food and often has a lot of fiber as well
By eating fruit on an empty stomach, the fruit finds its way to your intestines faster, where it actually cleanses the walls of your intestines.
The result is that your body functions better and you have more energy. When you follow a healthy eating plan, your intestines are free from the junk that was clogging the process of absorbing nutrients in the first place!
2. Before NOON (or as long as comfortable) eat only raw fruits and vegetables (preferably not together). 
Why eat only fruit until noon? Early in the day your body is naturally ridding itself of waste products -- kind of like taking out the trash.
Because fruit requires so little energy for digestion and is rich with water and fiber, it actually helps with the trash-removal. 
This is why people often feel more energetic when following these principles, like their body is functioning at higher efficiency. Their body is literally using less energy while absorbing more nutrition.
By increasing your body's efficiency, your energy level will increase, and your metabolism will increase. More calories are burned more easily, and you feel more energetic. By unclogging your digestion you will also find an enhancement in your ability to use the food that you eat, so you won't be as hungry.
3. Don't Combine Proteins with Starch
When you follow this healthy eating plan, you can eat either a starch with vegetables, or eat a protein with vegetables, when you eat lunch or dinner.
But don't eat starch with protein.
There is a chemical reason why: When you eat a starchy food, such as bread, rice, potatoes or pasta, your body starts breaking down that food by creating an alkaline substance called Ptyalin.
This healthy eating plan works by simply getting the foods you eat to be digested properly and efficiently.
To break down protein - such as meat, fish, chicken or turkey, your body produces an acid called Hydrochloric Acid.
It is a basic principle in chemistry that acids and alkaline cancel each other out, so what happens when your body's opposite digestion chemicals are produced at the same time?
They neutralize each other. 
The food never breaks down properly. You end up feeling bloated and uncomfortable because the food is lying undigested (and virtually indigestible) in your stomach!
Worse than that, your body has to use all kinds of extra energy to do something with this stuff that's accumulated in your stomach.
But the alkaline isn't available to break down the starchy foods, and the acid is not available to break down the proteins, so the food just sits there until the protein starts to putrefy and the starch starts to ferment! Yes, Yuck again!
All this extra effort to break down the ill-combined food takes even more energy to do, so you have a sluggish, tired feeling. Remember how you felt after a big Thanksgiving or holiday dinner?
Think it was the portion that caused that sluggish feeling?
Guess again!
Your body can shuttle this food to your intestines in a relatively short time. But when starches and proteins are in the same meal, and digestion is so hindered, the process of breaking down the food takes hours longer.

The only thing that can possibly worsen the effects of eating protein with starch at the same meal is to have fruit afterward! And how often have we all done that?
So, try out the three rules: Eat fruit only on an empty stomach, only fruit or vegetables before noon, and don't eat your starch with your protein. And test for yourself how you feel after a few days! 
If losing weight is on your things to do list, check out Thin Fit Fabulous You, this weight loss product is devoted to helping you achieve real, healthy, long term weight loss.
More About Healthy Eating

---