Mind Tool For Weight Control:
The Clock Technique
(The Solution For
Lack Of Will Power)

This nifty mind tool is going to freak you out a bit. It is a mind power technique that takes will power completely out of the conversation.
So for example, let's say you are addicted to chocolate mousse and you are trying to lose weight. Then someone who is obviously not your friend, puts chocolate mousse in front of you.  You do the mind power technique ( it only takes a few seconds when you know how) and wham, your desire vanishes. You don't want the chocolate mousse. Not even a taste. None. Zippo.

Do you realize how powerful that is?
With this mind tool you can change what you eat, who you like and the activities you enjoy --  INSTANTLY.
Can you grasp the possibilities? It is actually an NLP (Neuro Linguistic Programming) technique that works with your brain to instantly organize information.

Who wouldn't rather use mind power 
than willpower?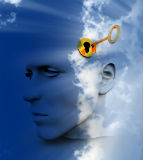 I teach it in my Weight Control Hypnosis Program but you can use the mind tool for all kinds of things. I taught this NLP technique to a friend of mine who had a big crush on a guy who treated her like dirt. In ten minutes she was cured. Eight of those minutes were spent explaining the exercise to her.

This mind programming technique will allow you to easily resist the things you love -- but wish you didn't.
Here I am going to show you how to use it to change your food preferences because almost everyone I know has a weakness for some type of junk food .

But as I said, it has many applications.

The clock technique:
a mind tool for shifting desire
One of the ways our brain knows what we like or don't like is that it codes like-items by location. It stores memories of desserts you like in one location or place in your mind, and the ones you don't like in another.Consider it a natural mind tool, like a shortcut on your desktop, that your brain accesses and can quickly tell you if you like something -- or not.

When you move a food item from one location in your mind – say, the ADORING DESSERT PLACE – to another -- The TAKE-IT-OR-LEAVE- IT- PLACE, your desire for that food item will shift, in tandem, and you won't want it.
Isn't that cool!

The Clock Method mind Power Technique
1. Choose a food that you want to lose your desire for. Be very specific. No matter WHAT the food. Remember to BE SPECIFIC.  If you want to unplug your desire for Chips Ahoy chocolate chip cookies, don't just say, "Chocolate chip cookies"
Or if you have a special thing for Doritos Nacho cheese tortilla chips, don't just say "corn chips."

2. Choose a food that you can easily resist that is similar to the one you love. In other words if you want to lose your love of vanilla ice cream. That would be food item you chose in step one. For this step choose a flavor of ice cream you don't like – or perhaps a yogurt, icicle or some other kid of frozen dessert. Again BE VERY specific about the item. 

3. Imagine that you are facing a BIG clock out and away from you.  So big that your nose is facing the center i.e. 12 o'clock is directly up, 3 o'clock is to your right,  6 o'clock is below, 9 o'clock is left.

4. Where on this clock do you find the picture of the fattening food?

In other words, your mind is not in your head. When you visualize something you typically "see it" outside of you.  

In addition to noticing the time on the clock by its position and angle also be aware of the depth – in other words how close or far away does that food item seem.

5. Where on this clock do you find the food you DON'T like as much?  This is important, so REALLY find out the location where your brain codes food you DON'T like as much.  We'll call this the "take it or leave it" location in your mind.

6. Move the food you want to not-like-so-much into the Take-it-or-leave-it location.
7. Imagine nailing it there in that exact spot and remember it always in that location.

8. Check your preferences. Do you want it now?

To reverse the process one COULD move the item back to the original location but why would you want to?
BTW. if you eat the junk food again, your taste buds will give your new brain instructions. So if you want this technique to work permanently, don't work against your mind power.

Don't you love this Mind Power Stuff?
If you do, please share the love!

More About Hypnosis for weight Loss

If you are interested in ordering Mandy's Platinum Weight Loss Program, here is the link

More Mind Tools And Techniques:

---