Why hypnosis for Weight loss?


Hypnosis for weight loss cannot only help you lose weight -- it can help you keep it off for good.
No diet or exercise program in the world can get to the root of why you overeat, crave comfort food, or don't exercise. Hypnosis can get to the CAUSE of your problems -- and in most cases, eliminate them. 
That is why I believe that hypnosis for weight loss - combined with a few other mind power techniques I teach my students - is the best weight loss program on the market.
Where else can you find the tools to stop emotional eating, get exercise motivation, build a positive self image, eliminate the production of cortisol-- the stress hormone that causes belly fat -- change automatic behavior AND modify your food preferences on the go?
You might be wondering why I care about changing food PREFERENCES rather than simply eating HABITS?
Because if you PREFER nutritious, healthy low-fat foods that will keep you fit for life --- if you come to ENJOY physical exercise -- you will NATURALLY trim down and you will never have to struggle with losing weight again.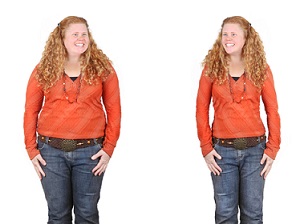 The absolute and undeniable truth, is that for you to SUSTAIN any type of  change in your life --whether it is weight  loss , money management, your health or relationships -- unless you change your MIND SET about it, any progress you make will only be temporary.  It is human nature…
Before long, without a shift in thinking, people go back to their old habits again and usually end up where they started. It is a shame because it really doesn't have to be that way.

The 90% 
hypnosis for weight loss solution

Because 90% of what human beings do is unconscious, how can you possibly permanently fix a behavior-driven problem like weight loss without addressing unconscious impulses?

That is why many people CAN lose weight but CAN'T sustain it. 
Our hypnosis for weight loss program, "Thin, Fit, Fabulous You" addresses what other diets, exercise, and online weight loss programs don't cover -- the 90%. 

After 19 years of teaching mind power techniques, the real results of my students speak for themselves.

I lost 104 lbs and 69.75 inches in 9 months after taking Mandy's course. Jeyla Kimball, Fort Lauderdale.
"I am a thirty-five-year veteran of the scale wars, and this is the only online weight loss program I know of that addressed ALL the issues of weight management.
Working through the program has given me new insights into the root causes of my weight issues and new tools to deal with them.
Whether you have suffered with eating disorders your whole life or you just want to speed up your metabolism and take off a few extra pounds, these online weight loss programs can really, really help you!" -- Angela Kelsey
And...
As someone who is a huge fan of Mandy's work, I was thrilled to hear about the release of her new Mind to Succeed Weight Loss Program. I recently lost 30 pounds and owe much of my success to her tools and teachings. (I only give her partial credit because she told me what to do and how to do it, but I had to follow through and change some thoughts and actions).
But here's the deal - the techniques are easy to do and the program is the most comprehensive of any I have ever tried - and I have tried almost all of them!
I went from a size 12 to a size 6 and am told daily that I look much younger then my age. I have a confident self-image and positive mind-set that supports good habits and techniques that I learned from Mandy and her program. Start today and make up your Mind to Succeed! -- Jeannette Kraar, Palm Bay , FL
When I heard Mandy Bass was doing a weight loss program I was beyond thrilled. I immediately signed up. The program has to be one of the best things I have ever done for myself . . . 
I was able to identify the root cause of my body image issues and work on getting over those. I learned fabulous techniques using NLP to be able to walk past foods and to get up and exercise.
I can't stress enough how this class will change your life. Thanks Mandy for an amazing experience!! - Maya Barbery, Falls Church, VA
With my weight loss system that has a built in hypnosis for weight loss program, you will learn everything you need to know and experience to make weight loss permanent.
You'll be using the most effective method of creating real change, guided self hypnosis, kinesiology, hypnosis and NLP.

My hypnosis for weight loss program, Thin, Fit Fabulous You is filled with practical tips for turning off emotional eating, speeding up your metabolism, and a secret eating strategy that will end dieting.

More About Hypnosis for weight Loss

If you are interested in ordering Mandy's Platinum Weight Loss Program, here is the link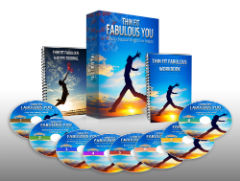 ---