Getting Business Goal Setting Right

Its is important that we get business goal setting right because as I've said before, if we don't know where we are going, we are going to end up somewhere else.
From my perspective, business goal setting is both an art and a science especially if you understand how important goals (and/or worst outcome scenarios) can be in the area of motivation and self confidence.
Set them too low, and you are likely to underachieve; set them too high, and they can kill your confidence and crush your motivation; don't set them, and you are likely to get lost, chasing bright shiny objects where they lead. (Hint: bright shiny objects typically only lead you into debt.)

Bill Gates on business goal setting said:

"Most people overestimate what they can do in one year and underestimate what they can do in ten years."

Given that Bill Gates is well, Bill Gates, doesn't it make sense to take a little time to really consider what we want for our lives long-term?
Business Goal Setting: Fact and Fiction

Yes, it's true,no matter how much business goal setting you do, there are a lot of things in life that we can't control, and making a plan doesn't always make it happen. But the reason we do it, is not simply theoretical:
A study in the British Journal of Health Psychology found that 91 percent people who planned their intention by writing down WHEN and WHERE they would do something each week--in their case it was exercise-- ended up following through. On the other hand, people who had the same goal, read motivational material but did not plan out when and how they would go about accomplishing that goal, showed no improvement in following through compared to the control group.
That's a 91% difference in success between you working your way through this roadmap or watching inspirational videos on YouTube. Only you can decide which is a better path for you :-) 
DO THIS FIRST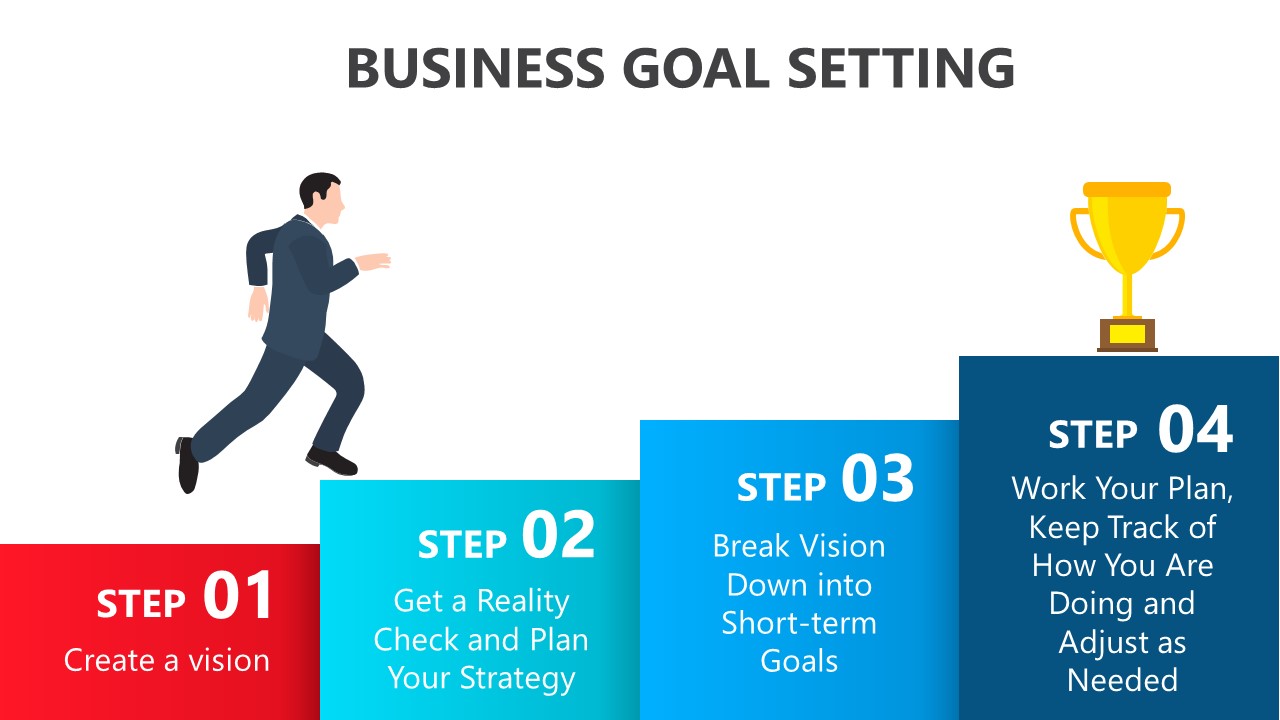 Go somewhere quiet, somewhere open where you can feel at peace. Take a few moments to relax and let go of tension and worry so you can decide clearly, what you want to do, be and accomplish in the next ten years.
When you are ready, zoom into your ideal future 10 years from now …Where are you living? What is your environment like? Who is with you? How are you feeling physically mentally and emotionally? What does a "normal" day look like for you?
If you are still in the same business:
In your ten-year vision:

What does your business look like? Who is running it? Who do you serve – and how are your customers   benefiting from your service? What do people say about your business? How many employees do you have? What else do you notice?
If you have retired and/or sold your business:
In your ten-year vision:

What type of a nest egg do you have? What are you doing with your time? How are you fulfilling your greater purpose? How are you benefiting others? How are you contributing? What are you doing for fun? How are you staying fit and active?
Whatever the long-term goal is:

For each area of your life decide how you want to feel about things. What needs to be there for you to experience that level of contentment?  Set 10-year targets for each area of your life: business/ career, personal relationships, family, health/fitness, spiritual, financial. Don't worry about committing to things you aren't sure you want. I will show you in a later step, how to magically integrate those changes.

Really enjoy this step of visualizing your future self. immerse yourself in the feelings you want to create so they can be real to you and because I promise you, very soon, buzz killer (that be me) will be back to cracking the old whip again so enjoy this step fully.

Dream Big. I'll be back to help you break this down into short term goals and targets but having a longer term vision for your business goal setting will inspire you when things get tough as they inevitably do.


---