Reduce Stress in Workplace

Stress in workplace is the major source of stress for Americans according to a study done by  the American Institute of Stress,
People blame their stress in workplace issues to workload (46%), life balance issues (20%), job insecurity (6%) and people issues (28%). But if we want to improve the situation, it's important that each of us accept responsibility for our personal contributions to our problems...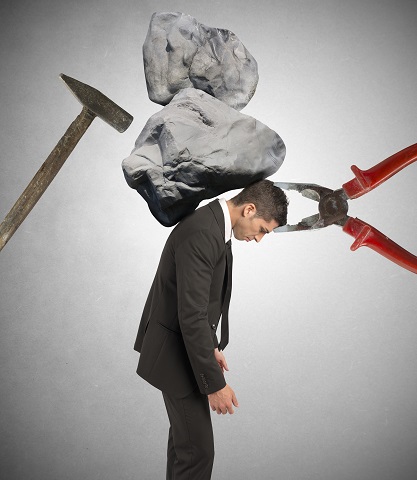 Does this seem familiar?
You sit at your breakfast table and think of the stress-filled day ahead. You start playing out imaginary scenes of the issues that drive your own brand of stress in the workplace.
A conversation with a problematic co-worker; a boss you don't like; or a tardy subordinate … You think of the pile of work on your desk and your hands start to sweat; you worry about needing to work late - today is your day to pick up the kids.

Is this a stress in The workplace issue or . . .?

There is no doubt that our lives can be full of pressure, deadlines, mountains of work, and difficult people, but starting a day like that gets you exactly what you don't want: More stress in the workplace!
Thinking stressful thoughts of what DID happen or what COULD happen produce physical symptoms of stress just as if those situations were happening now.

So let's look at stress in workplace issues with the mindset of helping ourselves minimize the discomfort we feel and experience. There are lots of mind power techniques on this site, that can help you do that.
My intention is not to deny that stress in the workplace is a very real problem.  Precisely because it is such a problem, we all need to apply mental self help for the benefit of our own health, happiness and success.

With simple mind power techniques like meditation and controlled relaxation techniques, you can get rid of stored stress, learn how to avoid stressors, distinguish between real and imagined stress, and change how you behave and respond to any sort of stress-filled scenario.

The Power of Your Mind at Work
It is accepted knowledge that the human brain, as advanced and complex as it is, cannot tell the difference between real and imagined stress. Of course, that tells us that it is an organ that is highly receptive to "suggestion". This translates to one amazing fact: You can make yourself feel and behave however it is you want when you use self hypnosis and meditation to "speak" to your subconscious.

For example, if you look at studies done on the power of positive thinking, you see that successful business icons like Andrew Carnegie hoped to tap into the power of the mind in order to use it for success. They understood how positive thinking was a real force of nature and something that radically improved the workplace.

What does this mean for those who want to reduce stress in  workplace? It means that if you are experiencing stress, your mind can make it better or worse.

An example of how stress in the workplace can FEEL worse than it is:
You have a presentation to deliver to several colleagues. You don't like to speak in public, but you are the most knowledgeable person on the staff.
Instead of seeing this as an opportunity to share what you know, reduce the pressures on yourself as the "expert", and give your firm a bit of a boost - you see only your dread that comes from standing in front of others and talking. You worry and create scenarios in your mind of all the things that can go wrong.
More worry. More stress. More anxiety.

Can you see what this has done? It has turned a potentially positive opportunity into a stressful "situation" that you are trapped in. The power of your mind created the discomfort. And your power of mind can turn this around. That is why you need mind power techniques.

Is this stress in workplace
or  Stress in mind?
Consider your entire workplace situation. Are you blowing certain stressors out of proportion and/or reliving past experiences?  Are you worrying about things that COULD happen?

People often create a veil of stress that makes situations feel more stressful than they need to be. Perception becomes reality. But you can change perception with the power of the mind.

Enter Mind Power Techniques . . .

When you become more aware of your thinking, and take command of it, you naturally feel more in control and less stressed. That presentation example we used earlier could be transmuted into an opportunity to showcase your expertise, or have fun with co-workers.

With relaxation exercises, hypnosis, self hypnosis and other mind power techniques, you can "reprogram" your mind to see and respond to situations differently. With just five to fifteen minutes of practice a day you can reduce the physical effects of stress, and lessen the psychological harm of stress in workplace, or anywhere else. Try it.

---