What is your life Purpose?
Ancient Wisdom Teachings
on Personal Power

If I asked you, "what is your life purpose?" would you have a clear, succinct answer? Most people don't.
Yet most conscious people, at some point in their lives, have an innate sense that their life does, in fact, have a purpose, a mission that needs to be expressed. In my very popular program, Life Purpose Connection, I guide students through a personal journey of self-discovery, to help them sort out the answer for themselves.
Do you buy the
one-size-fits-all  answer to the 
"what is your life purpose" Question?
Many modern gurus and spiritual leaders talk about love -- and how love, or joy, or oneness, or some other high emotion, is the SOLE purpose of our existence.  I don't think ANYONE can dispute the enormous power and importance that these emotions have. But this one-size-fits-all approach to the "what is your life purpose question," in my opinion, falls short for bringing the individual meaning people want for their lives.
I am much more inclined to agree with the ancient wisdom teachings about the soul's individual path that leads to our evolution over time. That each one of us has unique gifts, unique flaws, and different energies that we need to work with in expressing our unique life purpose.
Ancient Wisdom Teachings about Life Purpose
According to wisdom teachings dating back THOUSANDS of years, from ancient Greek, Egyptian as well as Vedic Sources, there are SEVEN rays of life -- SEVEN essential energies that human beings bring forth and are born to express.
| | |
| --- | --- |
| | Alice Bailey, a well-known leader in the Theosophical movement at the beginning of the last century, researched and taught extensively on this subject. Her writings were compiled into a book called the Seven Rays of Life. |
In the ancient mystery schools, disciples were encouraged and guided to "know thy self" through understanding the rays of life that they personally expressed, as part of their spiritual training. Only then, did they try to answer the question: "what is your life purpose?"
From the ancient perspective, it is true that ONE of the most important Rays is LOVE.  But there ARE others. Knowing what Ray you are here expressing is not nearly as important as feeling THAT you are expressing what matters most for YOU personally. In other words, you'll know it's your purpose by the way you FEEL when you are expressing it.
The seven rays of Life 
What is your life purpose, according to ancient wisdom teachings? Maybe it IS love, or connection, or freedom. Maybe it IS oneness with others.  But it may also be an expression of will or power, a manifestation of beauty,  idealism or devotion to a cause. Meaningful qualities are essential for evolution and progress. According to ancient wisdom, ones' life purpose was directly tied to the soul's journey, through its incarnations.
According to the ancients, the seven rays are channeled through the planetary energies upon your birth. Their combination and positioning in your natal chart present you with different challenges and gifts for this lifetime.
So for example, the first ray which is Will or Power and predominant in many leaders, gives one strengths of courage, steadfastness, truthfulness, the capacity to grasp big questions in a great minded way. But it also comes with  challenges for the soul in the form of pride, ambition, hardness, arrogance, desire to control others, obstinacy and anger.
Will or Power
Love-Wisdom
Activity or Adaptability
Harmony, Beauty, Art or Unity
Concrete Knowledge or Science
Abstract Idealism or Devotion
Ceremonial Order or Law
What rays you express, are not nearly as important as it is for YOU to discover what makes YOUR life meaningful and worthwhile. That is why I poured my soul into developing the program, Life Purpose Connection. So I could express mine, which is to inspire others to lead happier, more fulfilling lives -- and give them the tools to make it easier.  
Finding the purpose of your life may surprise you. It may not. But it certainly makes a BIG difference, once you begin living it.
More on life Purpose and Goals

A Personal Development Plan Puts Your Mind Power on Steroids

Mandy's Life Purpose Connection Audio Program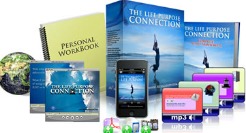 ---