My Total Life Change from Fear to Freedom
In this Dharma Talk, I share the total life change I experienced over the past year.

It begins when I became the victim of  a violent crime last February when a young athlete from a nearby college,  broke into my home under the influence of some really bad drugs.   This Dharma Talk, recorded live a couple weeks ago, (audio only) is my account of what happened that day and the  subsequent journey out of fear -- to forgiveness and freedom.

This is the picture I showed the group during the dharma talk: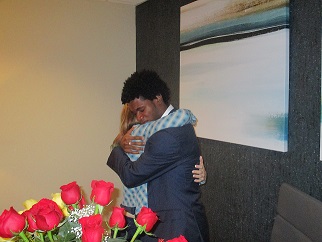 Most of us have a tendency to judge situations as "good" or "bad." But it is important to remember that very often our most valuable experiences are born from circumstances that we would never consciously choose for ourselves. 

Post Script

I Just got word that the plea deal I was advocating went through last week. The young man will get 7 years probation, during which he will be subject to random drug testing. His adjudication will be withheld until the end of his probation.

I am very grateful to the court and D.A. for their flexibility. I know he and his family are too. It is my deepest hope that something good will come  from this experience

10 Tips for A Successful Total Life Change

 These are the ten most important lessons I learned in the process of turning a horrible life event into a transcendent experience. One that has blessed me in the most wonderful and surprising ways.
Focus on what is going on withIN you -- rather than what is happening TO you.

When in deep water, DIVE! i.e. learn to work through your feelings instead of resisting them.

Anger is poison. Holding onto it poisons YOU. Forgiveness is the key to freedom. Remember no matter where you go, there you are.

Forgive yourself FIRST. Work through unconscious guilt. You cannot give another that which you have withheld from yourself.
Realize you are not alone even though it feels like it sometimes. Strengthen your spiritual base for that is the source of your true power.

 If you make a mistake, remember you are human. Forgive yourself immediately and choose again!
It is never easy to make a total life change but you wouldn't be doing it if you didn't think it worthwhile. Trust yourself.
Have a daily spiritual practice that allows you to "reset."
Learn to love your SELF as the beautiful spirit you are. You are more than just a body having a human experience.  There is a part of you that is changeless, boundless and timeless. Come to know that part of you, untethered by the physical world. It will give you the stability you need when things around you are in chaos.

Choose to be happy

I would love to hear from you.

Please share your life changing experiences with me here

Related Articles
---
---