what is self image?
Finding Your Authentic Self

What is Self Image? How do you find your Authentic Self or discover your inner potential?
I've already written extensively on the relationship between self esteem and success. And why finding your authentic voice is so important for your happiness.

This beautiful Indian fable, highlights the essence of human potential and answers the questions, what is self image really, and how can changing it change our lives? I learned it from Joseph Campbell , many years ago. I hope you enjoy it:

The Tiger and the Goat:
Finding Your Authentic Self

Once upon a time there was a pregnant tigress who wondered the mountains in search of food. Starving and on the verge of collapse, the tiger finally spotted a herd of goats.  Mustering up what little strength she had left, she made a last desperate attempt at survival by pouncing on the herd.
But the effort was too much for her. Spontaneously she went into labor and gave birth to a male cub. Then she died.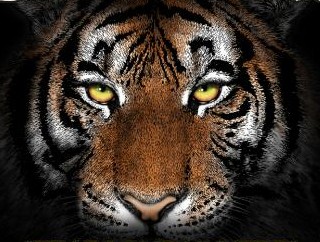 Luckily for the little tiger cub, goats have wonderful maternal instincts. The goats adopted the little cub and raised him as one of their own. The tiger grew into a scrawny adolescent living the life of a goat, eating goat food and doing everything that goats do.  It was a comfortable but uninspiring life for a tiger.
One day a strong, handsome tiger on the prowl spotted the young tiger among the goats. "ROOOOAAAAAR!" He growled confronting the startled young cub.
M-a-a-a-a-e!" The young tiger cried out in his goat-voice.
As you can imagine, having being raised by goats and knowing only a goat's life, the tiger THOUGHT that this was his voice, because it was what he was familiar with and knew best His self image was that of a goat, even though he was in truth a tiger.

Naturally the young tiger was startled by the big, scary looking tiger and tried to run away.
The older tiger wasn't having any of it. He snatched his young cousin between his jaws and carried him by the scruff of the neck to a lake nearby.
The water was calm and clear. When the young tiger stared into the still lake he saw his reflection for the very first time. What is self image? It is how you see yourself. Up until this time the young tiger had imagined himself to be a goat because he had never truly seen his own strength and magnificence.

 "Look!" roared the older tiger, swatting the younger fellow with his paw. "What do you see?"
 "M-a-a-a!" bleated the youngster in frightened amazement.
Imagine how shocked he was when he saw clearly that his face was the face of a tiger, not that of the goat he had imagined himself to be. Understandably, he was terrified.
What is self image for the young tiger at this point? He sees himself as goat and therefore has the voice of a goat.But he sees his reflection as that of a tiger. And this goes against everything he thinks he KNOWS as true at this point.
What is Self Image?
The Way of the Tiger Or the life of A Goat?

The older fellow dragged the reluctant disciple back to his cave where he was hoarding a gazelle—his kill from earlier in the day. Then he gnawed of a chunk of fresh raw meat and forced the flesh down the cub's throat.
The youngster gagged. All his life he had seen himself as a goat, a strict vegetarian. Now he was eating flesh. It was a disgusting thought and he wanted to vomit. But instead of throwing up the tiger food, he swallowed and began digesting the meat.
After a few moments the nourishment he naturally craved, spread into his blood stream. The young tiger gave a cat-like stretch and opened his jaw. Then for the first time, he roared. A loud, ferocious, tiger roar. 
Thus began his journey to becoming all he was meant to be. He had taken a good look at himself, taken some coaching from someone older and wiser. Then, with a little help from his friend, he stepped out from his comfort zone. Now he was on the path to unleashing his full, natural potential.
 In one way or another we are all tigers behaving as goats.  And really there is nothing wrong with being a goat, provided it is a conscious choice.
For most people, there comes a point in your life, right now for example, when you take a good look at yourself and realize what you could be capable of.  Then you make a conscious decision: you can gag, reject the possibilities and remain a comfortable, uninspired goat. Or you swallow the tiger food, muster your spirit and begin the rest of your life with a roar.
What is your choice ---the way of the tiger or the life of the goat?
Are you willing to take on new challenges and risk the safety of the comfort zone you are in? If so, which area of your life would dramatic change be most compelling for you? If you had a magic mirror in which you could see your own potential, what would that area of your life look like?
As you visualize and imagine that YOU in the mirror there, allow yourself to relax in the knowing that anything can be accomplished in baby steps over time. Limiting your imagination at this time to protect yourself from disappointment, would be counter productive.
What is self image? It is the picture you have in your mind of who you are. And it can be changed. Learn how your thinking can change your self image.
Once you have created a compelling image that looks, sounds and feels irresistible to you, brainstorm some ideas on paper about how you can make it possible. What kind of tiger food would you need to swallow?
Then take another look at that compelling self image you created.
What is your self image now? Is it worth it? Does your tiger image still appear more attractive to you than the current norm? If so, when would THAT outcome seem realistic for you to attain, given the brainstorming you have done?
Whatever the time frame is, break down the major goal into smaller pieces, and set benchmarks for the next three years. Next, make a list of the resources you will need and the people you want input or coaching from. Before you know it, you will be on your way to letting out a gigantic, self-fulfilling tiger-like roar.
What is self image for me today, is different than it was ten years ago, and hopefully, it will be different in another ten years because I will continue to grow and evolve. When we get stuck in the past, we stop growing. 
What is self image for you today? In what interesting and inspiring ways would you like to see yourself change and evolve over time?
If you want to make changes in your life, you can make them easier with mind power techniques and a personal development plan. 
Learn more about the role of limiting beliefs in creating a positive self image. I also recommend you learn the Plexi-shield Exercise for developing a healthy response to criticism (learning from it but not getting crushed by it).

More About Building Confidence and Positive self Esteem

More About Positive Power Thinking

More about Affirmations

---