Positive Affirmations For Self Esteem: Do they Work?
Positive affirmations for self esteem are often recommended for people, especially teenagers, who suffer from lack of confidence and low self esteem.
Low self-esteem is more than a catch all condition that people use as a reason for making poor choices. People who struggle with low self-esteem often have anxiety and depression that result from the negative view they have of themselves.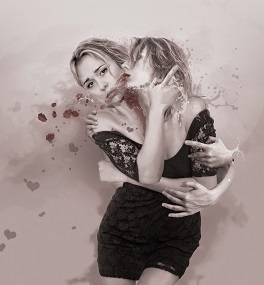 But there are steps that you can take to effectively fight low self-esteem and see more of the positive aspects of yourself rather than focusing on the negative.
Positive affirmations for self esteem are a great tool for bringing the positive aspects of yourself to the forefront of your mind. You also need to learn how  to forgive yourself for past mistakes and accept that, as a human being, you are not perfect. Work on progress not perfection. 
How to Write Positive Affirmations for Self Esteem
Positive affirmations for self esteem are short descriptive statements that you write or repeat out loud.
You can find a list with examples here.
Keep in mind that making positive statements about yourself will help you overcome negative self talk, and eventually help you start seeing yourself in a positive light.  But it won't happen overnight!
It has taken years of "programming" yourself to have the lack of confidence and esteem you currently experience. Often this comes from falling short of the expectations we have of ourselves.
According to  psychologist Ryan Howes, Ph.D,  "Deep down we've all constructed an idea of who we 'should' be: how we should look, act, think, feel and be regarded by others." When these expectations aren't met, our disappointment lowers our self image.
Low self-esteem can also be the result of  unpleasant childhood experiences. Those experiences may be either real or perceived - the subconscious mind cannot tell the difference.  It typically takes years for low self-esteem to develop. It won't go away overnight.
The changes that need to happen are beyond your conscious awareness, they require reprogramming your subconscious mind as well.
To speed up the process, I recommend using self hypnosis (which is simply the process of getting yourself into a more relaxed, receptive, focused state.)
Challenges of Using Affirmations to fight Low self esteem
 Some people find positive affirmations for self esteem challenging because it can cause the negative voice inside your head  to become stronger for a time.
That's natural but REMEMBER that it doesn't make the negative voice right.  It is just a voice who WANTS to be right -- like every other voice!
Occasionally the process might bring up painful memories or associations. If that happens, consider it an opportunity to put a positive spin on those memories. Journal them, so you can remember if they come up again.
For example, no matter how painful a memory is, you can always find lessons in the situation that can help you later in life, or the fact that it made you stronger, more compassionate or self reliant.  
The good news
If you stick to  working with positive affirmations for self esteem,  especially if you combine them with self hypnosis and other mind power techniques,  you will eventually feel a shift and begin seeing yourself in a more positive light.  
The  negative voice in your head will  get softer and softer, and you will eventually begin to appreciate your strengths instead of focusing on your weaknesses.
Look at yourself through the eyes of love 
In the self appreciation guided exercise in my Forgiveness MP3 program, I use a very powerful technique for seeing yourself through the eyes of love.  You can use this same strategy with positive affirmations for self esteem by asking the people who love you to write out some affirmations for you on a piece of paper.
Seeing all the reasons why your friends and family love you written out in their own words can be a big help in creating affirmations. You can even use some of their statements as your affirmations without making any changes to them.
Examples and instructions on writing positive affirmations for self esteems are here.
Keep in mind that what you are doing is  challenging negative beliefs you have carried around for a long time so it can  be quite emotional for some people. It's okay to cry or be upset in the beginning  because you are dealing with feeling that are hurt. But you WILL get through it and come to a better place where you can feel good about yourself and as a result every part of your life will be richer and more fulfilling. 
Keep going. Keep doing the affirmations every day. Eventually you will see how self defeating it is to continue beating yourself up for being human, the light will come on, and you will start to notice a difference in how you feel. I promise!
To Your success!
More about Affirmations and Auto Suggestions

More About Building Confidence and Positive self Esteem

More About Positive Power Thinking

---