Self hypnosis for sleep


Honestly, without self hypnosis for sleep, I think I would be a raving lunatic.
Now I am "programmed," thanks to mind power techniques, to get a great night's sleep ALMOST every night! But there are times when life's challenges keep me awake (not in a good way) and if I don't APPLY the techniques I know work, I toss and turn most of the night.

Lack of sleep makes you moody, foggy, accident prone and more susceptible to illness and disease. It is bad for your sex life, gives you bags under the eyes and causes weight gain.

We all have our weak spots and from the time I was a young child, getting a good night's sleep on a consistent basis has been one of mine. Knowing as much as I do about brain functioning, I certainly don't want to ingest pharmaceuticals or even natural supplements that mess with my brain chemistry or brain rhythm. Besides sleep aids make me feel like hell the next day. How about you?
Sleep hypnosis has truly been my savior over the years. The strategy that seems to work best, is to use a general "Great night sleep every night" guided audio for a few days to "program" your mind. Then have a technique you can use to put you back to sleep quickly for the times when you get woken up in the middle of the night.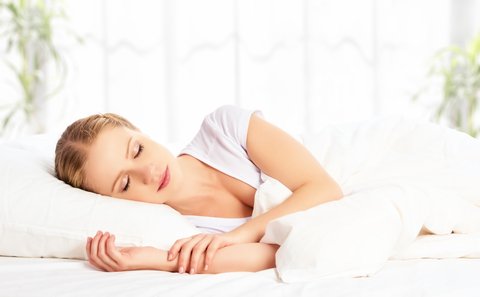 There are various sleep hypnosis methods for helping you fall asleep quickly.. My favorite uses colors and I  share it here. Before using it, I recommend reviewing the following principles that make it easier and quicker for you to fall asleep.
Self Hypnosis for Sleep:
Principles and Preparation
1.Remember the goal. When using self hypnosis for sleep, keep in mind that your goal is to fall into a deep sound sleep as quickly as possible. Don't be compelled to finish the exercise. Falling asleep at the beginning --or any time during the process --- is the goal. Trying to finish the self hypnosis for sleep steps defeats the purpose. Falling asleep is how you end your session – hopefully sooner rather than later.
2. If you have mental or emotional anxiety, BEFORE you go to bed, use the two handed stress cure and get it out of your system so you can have good night's rest. If you are feeling anxious, it is a good idea to work through those feelings before you use self hypnosis for sleep so that you will be less likely to be restless during the night.

3. If you just have a lot on your mind write out a to-do list or, if it is more emotional "stuff' you are carrying around, journal before you get into bed.
4. Turn off the TV at least half hour before bed. If possible, give yourself an hour of relaxing calm and quiet before bed.
5. Induce and deepen before applying the  hypnosis technique . Remember the deeper you are the easier it will be to fall asleep.
An easy sleep meditation technique that often works on its own is to simply follow your breath and repeat a relaxing mantra to yourself, in rhythm with your breath. It keeps the mind occupied but not TOO busy making it easier to fall asleep. The best mantra for sleep I have found is SO-HUM. "Sooooo" on the inhale and "Hummmm" on the exhale. Most of my students who have tried it say they typically don't need anything else.  
6. Use sleep hypnosis technique, as needed, when you first go to bed OR during the night. You can use the self hypnosis for sleep technique in the middle of the night if you have difficulty staying asleep, or going back to sleep after waking up.  
7. Remember, regardless of the time, induce and deepen first. That may be all you need to fall into a deep refreshing, relaxing healthy sleep.


Induction and Deepening:
For self hypnosis for sleep, you can use any induction method you prefer as long as it gets you into a nice deep state. Deepen using progressive relaxation, while affirming to yourself that you are going deeper and deeper, getting closer and closer, to natural, healthy sleep. If you fall asleep before you get to the self hypnosis for sleep technique –GREAT!

For a great sleep hypnosis mind power technique to put yourself back to sleep when waking up in the middle of the night, click here.

More On Self Hypnosis

---