Depression and Hypnosis:
A sensible Battle Plan?


In seminars I am often asked about the correlation between depression and hypnosis.  Can hypnosis cure depression -- or at the very least, help the symptoms? 
I am not a clinical expert on depression but here is my most honest take on the depression and hypnosis equation, for those interested in my opinion.  

Depression can affect anyone, and it is not always easy to "see" the signs or symptoms. It is indiscriminate, and it is something far beyond simple experiences of lingering sadness

One in ten people suffer from depression in the United States.

For many it is actually a chemical imbalance in the body and brain, and yet for most people struggling with brief episodes or lifelong battles with depression – self-hypnosis and hypnosis can actually help. But that doesn't mean it is a cure all.
Just like self help for anxiety, depression and hypnosis has its place. Depression comes in many forms. For severe and persistent cases, getting professional help -- to deal with both the physiological and psychological causes -- is recommended.

Certainly, self help formulas for depression, like self-hypnosis and meditation may not totally remedy the condition, but they do provide a welcome respite from many of the most troubling symptoms. But it is not for everyone.  And even if self-help has worked for you in the past, sometimes we need more.
We all go through difficult times when we need to reach out for help. And I encourage you, if you are struggling, to seek the help of a professional rather than suffer alone.

the depression and hypnosis Battle Plan
Anyone who has experienced true depression knows that it is exhausting. There are physical as well as mental and emotional symptoms, and it can leave the sufferer feeling as if there truly is no way out of the situation.
This is when the power of mind can come to the rescue and slowly, but persistently and effectively build up defensive walls that can reduce the potency of depression and help the individual to cope with all of the issues.

As an example, one group discovered that hypnosis can help people to really feel happier again and to eradicate the many, "Pessimistic and negative thoughts that generally accompany depression." 
If you have experienced depression, perhaps you already recognize the value of this sort of power. A lot of people with depression have thoughts of "if only I could..." For example, "If only I could just get out of bed today, I would start to feel better, but I know I'll just give up like I did yesterday, and the day before..."

With the use of proper self-hypnosis techniques, people with depression can eliminate this entire struggle. They will want to get out of bed and most certainly won't berate themselves mentally and emotionally for having failed to be able to do so in the past.

Remember too that self-hypnosis, like meditation, is not a demanding activity. As one expert noted, "People often think that in order to fight depression or anxiety they need to make drastic life changes. But small changes can have a big impact on how you feel." And self-hypnosis is basically a series of very small changes created entirely through the use of the power of the mind.

Quieting the Mind Brings Changes
I can't walk you through a whole depression and hypnosis plan here, but I can give you an idea of how hypnosis and self hypnosis can help. 
For example, one of the first things to learn is that your mind's "voice" is put to rest for a while when you use hypnosis or self-hypnosis. Usually it is your inner dialogue that is responsible for the negative thoughts that keep you feeling overwhelmed by depression

Your inner voice is  directed by your unconscious or subconscious mind programming. Speaking to that part of your brain and overwriting some of the negative programming can create core changes in some people.

Of course WHILE you are engaged in a hypnosis session, it is best not to ask where those thoughts and beliefs might have started in the first place. Doing that will bring your rational mind back into the picture-- the one thing we are trying to avoid.. 
At some point though you do want to take the steps to identify what is going on and rewrite those "programs." Learn more about that here.
The depression and hypnosis battle plan works well for many people for two reasons:
First, you turn your conscious attention away from any persistent thoughts of negativity and focus purely on things like breathing, posture, and then the use of hypnosis or self-hypnosis techniques to make only the most positive suggestions to your conscious and unconscious mind.
Second, with good technique you can get to the root cause of the problem. Often that is what is needed to eliminate problems completely.
But I don't want to oversimplify. Depression can be very complex and influenced by physiological factors, like hormones and brain chemistry.  In that case, getting the right medical attention is necessary. And yes, by all means, supplementing with self hypnosis techniques can give you the complete solution you really need.

Additionally, I strongly recommend for clinical or persistent cases of depression you follow the advice in this self help  article rather than just masking issues that need to be dealt with.

Self Hypnosis for Depression: the Process
For those experienced with self hypnosis methods, enter into the process by your favorite method of  "induction."
Next you would deepen your sense of focus and then begin using positive affirmations and visualization techniques, specific to the depression and hypnosis outcomes you want to achieve for that session. 
Before coming out use posthypnotic suggestion for lasting effect. Here are some self hypnosis scripts that I use to guide people through the self hypnosis process.

Using self hypnosis, in my experience, people become more empowered, energized and in control. That exhausting facet of depression evaporates and releases it's hold on you.
If you are interested in learning self hypnosis -- or strengthening your practice,  I recommend  My "How to" downloadable audio program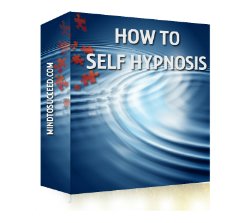 More About Emotional Freedom

More about Calming Fear and Anxiety

---