Reduce Stress Tips 
that can Change Your Life

These reduce stress tips are really stress cures in that they promote lifestyle changes.. Granted, they are not as quick and easy as some of the other strategies we have on this site but they will do more than help you cope with stress -- they will make a BIG difference in your life.
For more detailed information on any mind power techniques mentioned, please follow the links provided. 
Tip #1: Start Well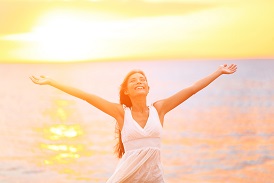 Get into a habit – a routine-- that gives you peaceful, stress-free start to the day.
Most people are startled out of bed by an alarm. They begin their day in hurried chaos, with their heart racing, then they head into the traffic, radio blaring. No wonder we have a stressed out society!
Get into the habit of getting up ten to fifteen minutes earlier and take some quiet time for yourself.  Do something that will relax your mind and get you into a positive mindset. If you have time for exercise as well so much the better but start with taking a few moments of quiet.
I like to start my day in meditation, simply being present, at peace and enjoying the quietness of the morning. It takes only a few moments to start your day in total peace yet it is one of the most important reduce stress tips I can give you.  Then I use self hypnosis techniques to "program my day" and get me into a positive, productive frame of mind.
If you want to change your routine but find old habits hard to break, use the habit change technique.

Tip #2: Use Mind Visualization
Use Mind Visualization to get into the right "frame of mind."    You can do this on your own but if time is limited, I recommend a short guided mind visualization exercise.
Having an audio guide stops the mind from concern about the time and you stay more focused. You are less likely to allow distracting thoughts to pop into your head and get you off track.
Mind visualization in the morning makes me more productive because I gain a sense of clarity, preparedness and control before the day begins. It helps me prioritize, organize and stay positive throughout the day.  

Tip #3: Breathe!
 If you find yourself feeling stressed, stop what you are doing and focus on your breath. Long, slow, deep continuous belly breaths.
Put a hand on your stomach to make sure you are breathing deeply. Your tummy should rise and fall with your breath. Once you get into a nice, slow rhythm of breath, move your awareness to the area between your eyebrows for a few moments as you continue your rhythmic deep breathing.  You will find it slows your thoughts down.
This is the quickest reduce stress tip of all! It only takes a few minutes of breathing stress relief  to feel a difference.

These reduce stress tips will Also keep you feeling positive throughout the day
Tip #4: Stop worrying
Most people worry about what could happen or what did happen. It really doesn't solve anything at all. Worse, it robs you of the present moment that you could be enjoying (or at least spending more fruitfully).
Worry is a useless, unproductive and unhealthy mental habit that serves no purpose other than to produce unnecessary anxiety and stress. Stop it!
This is one of the most life- changing reduce stress tips. It is also can one of the most difficult. Learn how to stop worrying here.

Tip #5: Change Stations
 What are you watching on TV and/or listening to on the radio?

Consider that:

The unconscious mind has to process everything you see, hear, and experience. Everything you watch on TV, or listen to on the radio. Stress producing imagery and talk will produce internal stress.

Music affects your brain rhythm. The faster your brain rhythm, the more stressed you feel. This is the principle on which most subconscious mind power techniques are based.

Build your sensory awareness and pay attention to what sounds, smells and images over-stimulate you -- and which ones calm you down.
All the images you see, all the advertising, messages and song lyrics you hear are processed by your brain. Feed your psyche with peaceful, positive messages.

Tip#6: Create Your Own Mantra
Create a daily mantra for yourself with a few affirmations that really work for you. It will help you stay open and positive. 

Tip #7: Learn Mind Power Techniques

When you learn mind power techniques, including meditation and self hypnosis, not only will you learn to relax more easily, you will also feel more in control of your life. Feeling more in control of life, will quite naturally, reduce the stress you feel.

More about Affirmations and Auto Suggestions

More About Coping With Stress
---