Hypnosis For Depression:
An Alternative to
anxiety and depression medication?
Over the years, thousands of people have recommended Hypnosis for depression as a self help strategy. If you are looking for an alternative to anxiety and depression medication, will it work for you?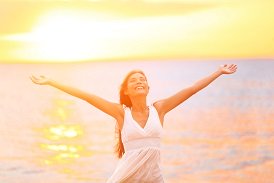 Depression is one of the most widespread health problems in this country. Millions of people battle depression every day. So the first think to realize is that you are not alone!  According to the National Institute of Health 6.7 % of US adults experience Major Depressive Disorder, meaning that their mental state interferes with their ability to work, sleep, study or enjoy life.
Prescription drugs help some people manage their depression but medication often has terrible side effects. And many people don't feel that the severity of their case warrants the risk of anxiety and depression medication. That is why they seek out--  and in many cases succeed --with alternative therapies such as acupuncture, self hypnosis or hypnosis for depression.  
What we  know for sure about Hypnosis and Depression
Depression hypnosis has helped thousands of people get rid of the debilitating symptoms of depression like fatigue, anxiety, and chronic physical pain. When you think about the havoc stress can create in your body, it is easy to see that the just the stress relief aspects of hypnosis, can do you good even if it is not a cure-all.
| | |
| --- | --- |
| When some people think of hypnosis they think of a magician on a stage manipulating people into parlor tricks as part of a show. But therapeutic hypnosis,  is much more than a trick. It is an effective treatment for many disorders, not just depression. Even self hypnosis, also known as auto-hypnosis,  can reduce stress,  lift your spirits, relieve pain and get you into a more positive frame of mind. | |
 Hypnosis has been used throughout the centuries to help get rid of physical pain. Hypnosis can also help people stop smoking, lose weight, and improve the quality of their lives. That's because many of the unhealthy behaviors that people are rooted in bad memories, bad habits, or other causes, rooted deep within the psyche. With hypnosis for depression you have the opportunity to correct the problem at the CAUSE.
How Hypnosis For Depression works
Depression hypnosis helps replace negative thinking, traumatic events and bad memories with positive associations. Those positive associations will have a dramatic impact on the body.
 Body Mind Health is a proven fact. The body responds to the thoughts that a person thinks, especially subconscious thoughts. If the subconscious thoughts are negative, sad, anxious or fearful the body will respond by pumping adrenaline through the body to make the person feel better.
But here is the problem with that!
Having too much adrenaline in the system will cause chronic pain and adrenal fatigue. In the long run, your immune system suffers and you feel worse! After being treated with depression hypnosis,  you will find that the   constant flow of adrenaline stops and  physical pain, in most cases, evaporates. 
Hypnosis for Depression often takes more than one session to be effective. That is why learning self hypnosis can be so helpful -- whether you get therapeutic hypnosis, or some other alternative, as self help for depression. Many of my students who take anxiety and depression medication, still use self hypnosis to keep them positive,  feeling good and energetic, as a counter to the many side effects, they have to deal with.  Once you learn a few techniques, self hypnosis can work instantly to help you cope with stress, negativity and even feelings of despair.
Some people think that after just one hypnosis for depression session a person will be completely cured. That is not very realistic! Especially if your symptoms are sever and/or chronic. Sure, some people who have mild depression may find that after one session their symptoms have almost disappeared. But for most it may take several sessions to be effective. If you learn self hypnosis, you have the benefit of giving yourself a couple doses a day of peace and positive thinking, which can be very helpful in treating symptoms of depression and getting you through to the next session.
The point is, don't give up. Hypnosis does work, and it works differently for different people. If you have deep depression, or if your depression is related to serious trauma in your past it will take more than one session to "be cured." . You also may want to combine hypnosis with other self help for depression therapies such as acupuncture, counseling or psychotherapy for best results.  Keep going. It will be worth it.
Hypnosis for depression, whether therapeutic or self induced,  is a drug free, self help for depression treatment that has been proven to be effective for many . If you have been struggling with depression, you can take a baby step right now by exploring the benefits of self hypnosis. While you won't go as deep as you would with a therapist, you can at least get your feet wet and benefits from the stress relief.
Then, if you like it, and it feels right, talk to a qualified hypnotherapist  to discuss your situation and how therapeutic hypnosis may benefit you.
More About Emotional Freedom

More about Calming Fear and Anxiety

---